Fixed Coverage & Absorption Reciprocal: Recession-Proof Route to Break Even?
I'm always surprised by the number of dealers and executive managers that continue to have a strong variable bias, despite compelling evidence that they should operate their businesses from the "Back Door Forward." We spend a great deal of time discussing Fixed Coverage/Absorption data such as:
The percentage of Gross Profit generated by Service-Parts-Collision on a monthly or annual basis.
The "Variable" expenses that are subtracted from this calculation (Commission, Advertising, Floor Plan, Policy, and Delivery expense) that apply directly to the sale of a new or used vehicle.

An acceptable amount of Coverage/Absorption that we have found will result in a healthy balance of profitability regardless of prevailing economic conditions.
THIS is where we see more customer engagement than the showroom. It's also where we build great ownership experiences and ultimately retain an ever-increasing percentage of our customers.
The unprecedented margins of the last nearly 3 years have provided even less reason to pay appropriate attention to Fixed Operations as I believe we should be (and should have been doing all along).
So, here's another way we might look at the importance of Fixed Coverage/Absorption: Looking at the Reciprocal of that same percentage.
What do I mean? The current "Benchmark" for Fixed Coverage stands at 77.5%, making the Reciprocal 22.5%.
That 22.5% (or whatever your individual percentage is) can be converted into an actual break-even number that your showroom needs to sell in order to break even, for the month or year. Keep in mind, if your current gross average drops, your number of units to break even grows, so measure this often.
The matrix below clearly shows how lowering the break even on the showroom is the RECIPROCAL of FIXED COVERAGE/ABSORPTION, and I believe, a much more tangible number for variable-biased dealers and executive managers to understand; and more importantly, respond to – in order to create a Recession-Proof Business Model.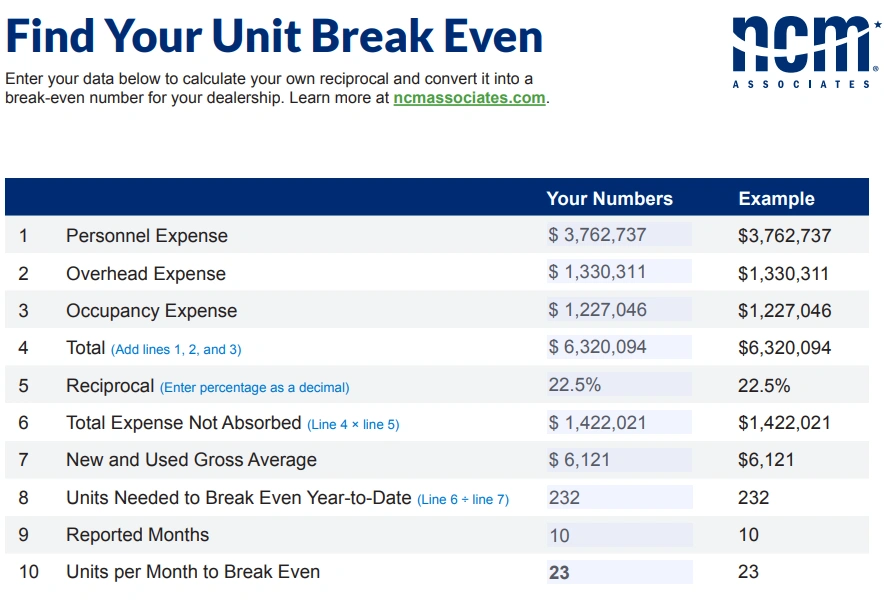 To calculate your own Reciprocal and convert it into an actual break-even number for your showroom, click here for my Find Your Unit Break Even worksheet. If you need any additional help with this topic or tips on how to implement changes like these within the dealership, learn more about our Fixed Operations courses at the NCM Institute.