Shriya Bhosale
Senior Software Developer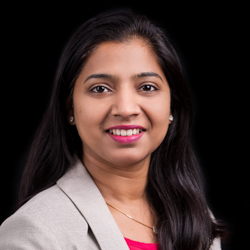 Shriya Bhosale is senior web developer at NCM Business Management solutions in Moncton, NB, Canada. She is a part of the product development team that is responsible for maintaining NCM web products, and implementing automations for value addition to overall product reporting and data analysis for various dealers.
Shriya believes that great software development is always a result of passion and hard work. It's all about the logical reasoning and ability to understand the exact pain areas of end users. She has 12 years of diverse experience in the IT industry and has worked in web applications development in different industries like insurance, banking, procurement etc. She is a full stack developer and has international experience working for various IT MNCs. Shriya holds master's degree in computer applications from Pune University, India and bachelor's degree in Computer Science.
Outside of work, Shriya enjoys reading, cooking, travelling especially with her family. She wants to travel all over the world and likes to experience different cultures and communities.
Contact Information
800-756-2620
4717 Grand Ave. #500
Kansas City, MO 64112