Dan Pratt
Manager, Business Analysis and Quality Assurance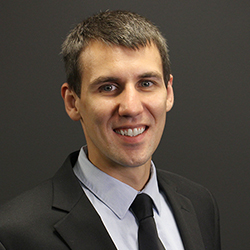 Dan is a senior business analyst who works with IT and other NCM departments to identify the most effective solutions to NCM processes, technology, and business opportunities. Dan knows that the technical and process efficiencies he drives today enable NCM's future success.
Dan earned runner-up in the 1999 Quincy Herald-Whig Regional Spelling Bee. He also received an honorable mention and $50 K.B. Toy & Hobby gift certificate for participation in an organ-donation awareness contest.
Dan holds a Bachelor of Arts in English from the University of Illinois at Springfield, a Master of Science in Information Management Technology from Grantham University, and a Juris Doctor from the University of Kansas. Dan enjoys karaoke, internet memes, repetitive video games, and seizing the means of production. When playing "That Old Janx Spirit," Dan usually plays to lose.
Contact Information
800-756-2620
4717 Grand Ave. #500
Kansas City, MO 64112