Kelsey Kennedy
Human Resources Generalist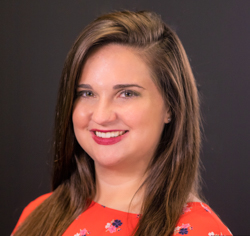 Kelsey Kennedy is a human resources generalist who works to support the talented employees of NCM in the areas of recruitment, benefits and administration. She believes that successful organizations line up their people strategy with the strategic goals of the organization. She wants her work to be a part of the success of an organization by supporting its employees.
Kelsey has worked her way up in the field of human resources for five years in multiple industries. She has supported the areas of recruiting, benefits, training, HR technology, policy implementation, payroll and compliance. Kelsey holds a Master of Science in Organizational Development Psychology: Strategic Human Resources from Avila University. She also holds a bachelor's degree in Organizational Communications from the University of Missouri-Columbia.
She has a passion for animals, interior decorating, travelling, listening to audiobooks and singing. Kelsey spends most of her free time focusing on making lifelong memories with her family, friends and two dogs.
Contact Information
800-756-2620
4717 Grand Ave. #500
Kansas City, MO 64112