Christian Roy
Development Manager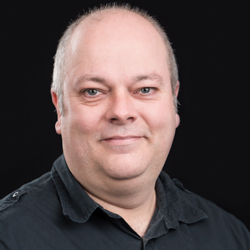 Chris Roy is NCM Business Management Solutions' Development Manager in the Moncton, New Brunswick, Canada office. He focuses on maintaining order in the code, practices, and processes. He tends to wear many hats and is always happy to help anyone who needs it.
Chris thrives on challenges and is not afraid of long hours. He encourages others to think outside the box, work smart rather than hard, quality over quantity, and to always follow best practices.
He has spent most of his career working in the mining and automotive industry, including a decade of consulting. Chris is adept at learning new technologies quickly and is a well-rounded developer, even being regarded as a "jack of all trades" by his peers.
Chris holds a diploma in computer science analyst/programmer from the New Brunswick Community College.
Chris enjoys spending time outdoors, woodworking, and doing construction. He's currently working on his 30-acre wood lot, getting it ready to build a small cabin in the middle of nowhere to get away from the city noise. He does not, however, enjoy washing his truck which is always full of mud!
Contact Information
800-756-2620
4717 Grand Ave. #500
Kansas City, MO 64112