Jake Andrews
Staff Accountant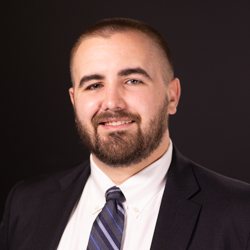 Jake Andrews is a Staff Accountant who works with his peers in the Accounting department to handle client invoicing, working through the month-end close process each month, and facilitates the balance sheet reconciliation process.
After five years of schooling and working with a number of different companies, Jake has garnered experience in tax, auditing, property management, and general private accounting practices. He has prepared individual tax returns for clients with net worths in the millions, stepped in to fill leadership roles during crucial times of turnover, and worked directly with investors to provide accurate and timely presentation of financial statements.
Jake holds a Bachelor's and a Master's degree in Accounting from Saint Mary's College of California, a school which employs the La Sallian tradition of schooling which focuses on education for the purpose of improving one's community and the world as well as one's own life. He graduated with honors and as a member of the Phi Kappa Phi academic society.
Jake enjoys reading, hiking, and spending time in nature. He has a second degree black-belt in Taekwondo, and is currently seeking a good kickboxing gym to get back into training.
Contact Information
800-756-2620
4717 Grand Ave. #500
Kansas City, MO 64112