Bernie Clement
Moderator/Instructor/Consultant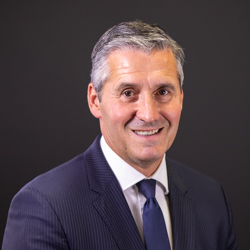 Bernie's career in the automotive industry began in 1988, working as a distribution analyst with Chrysler. Throughout the next 18+ years, Bernie worked his way up to become VP of Sales and Service for Chrysler Canada. Prior to that role, Bernie held numerous executive positions at Chrysler in both Canada and the United States.
While at Chrysler, he developed a strategy to promote a sales-oriented import distribution and dealer ordering system that quadrupled sales in Quebec and increased their Canadian market share by 1.2% in the first year.
As a result of his success, the opportunity to purchase a Chrysler dealership emerged and Bernie became the president and dealer principal of Pembina Chrysler in 2006. In the first year of ownership, the dealership's net profit grew by more than $1 million. The following year, he acquired a second Chrysler store in a struggling rural location and drove a 1,800% increase in profitability during its first year. While at the helm, Bernie added a total of five locations to the Pembcorp Auto Group throughout central Canada.
Contact Information
800-756-2620
4717 Grand Ave. #500
Kansas City, MO 64112