Randy Fluharty
Moderator/Consultant/Instructor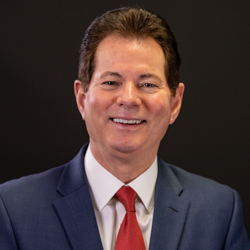 Randy came to NCM having built a 30-year automotive career after serving as a Marine Corps officer working in logistics. He got his start in fixed ops, moved into variable ops, and then on to management positions in customer service, sales, service, after-market, parts, and finance. Returning to retail, he was a general executive manager with a Top 35 dealer group and a general manager with a mid-Atlantic Top 5 volume dealership. Additionally, Randy has worked with some of the largest (and top-volume) dealer groups in North America in both consulting, teaching, and 20 Group facilitation. Outside of the automotive arena, he has extensive executive leadership experience having been a general manager, vice president, and COO with various companies.
A proven subject matter expert, Randy brings his financial, fixed, and variable ops knowledge to NCM. Previously a management instructor for dealers, 20 Groups, OEMs, and allied industries with NADA, he is an award-winning change agent who excels in general management of resources. Randy also specializes in the execution of plans in all phases of operations, sales, and administration with a focus on building collaboration, creative problem-solving, and effective productivity. He is an automotive consultant adept at coordinating large and small teams while simultaneously developing communications, relationships, social and technical skills, and mapping capabilities needed to achieve success.
Expertise
Business development
Marketing
General management
Process and profit improvements
Speaker/trainer
Client profitability is a measure of Randy's success.
Beginning in November 2015, Randy worked with Audi Boundary (a large, high-volume, Audi dealership in Vancouver, British Columbia, Canada). Audi Boundary was part of the Audi Best Brand Consulting Program that NCM, along with Audi of Canada, developed to improve the overall processes and profitability of Audi dealerships. Randy oversaw the program operations, performed multiple consulting visits with the dealership over 17 months, and worked with every department manager to improve profitability and processes. Using NCM's Profit Trend Analysis report, Randy and the dealership methodically agreed upon tasks that lead to continuous improvement and profitability in all departments.
Currently, Audi Boundary is ranked monthly in the top three nationally, having moved up 20 positions! Their new car department has set all-time sales records consistently. Their used car department has gone from an average of 10 units per month to 50+ per month. The service department has set continuous records, and their parts department is one of the fastest-growing in the country. Their dealership net-to-gross is now at 36.7% compared to the 30% Audi average. In net-to-sales, Audi Boundary reached 6.8% compared to 4.5%, another Audi average.
Contact Information
800-756-2620
4717 Grand Ave. #500
Kansas City, MO 64112