Kim Mishmash
Software Solutions Admin Support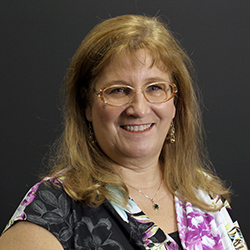 Kim is the administrative support for the Software Solutions department. She works with the NCM Software Solutions team to guide clients from their initial contracting phase to post-installation of their new software products. Kim believes in providing NCM's clients with the best possible service available, so they can get the most from their investment.
Kim began her tenure at NCM in 1996 by working in the data processing department and quickly moved into the role of the department team lead. Later she transitioned over to the retail operations division where she remained for over 19 years. Her transition to Software Solutions began in early 2018.
Kim has completed the Dave Anderson Learn to Lead training. She was recognized in the completion of MBS, Management By Strengths. Additionally, she has completed several continuing education programs through Rockhurst University, National Seminars Training, Career Track, and Fred Pryor Seminars.
Kim enjoys making jewelry, crafting, and spending time with her family. She looks forward to traveling with her husband after they both retire.
Contact Information
800-756-2620
4717 Grand Ave. #500
Kansas City, MO 64112