Chiky Managbang
Configuration Analyst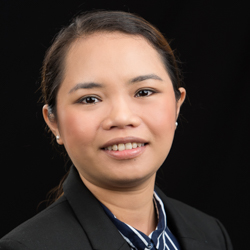 Chiky Managbanag is based out of Moncton, New Brunswick, Canada, working as a configuration analyst for NCM Business Management Solutions. She is a key resource on the product and configuration team, interacting with clients and internal teams to design, develop, and maintain system implementations.
As a solutions-driven software engineer and with a seven-year track record in information technology and object-oriented programming, Chiky knows that having a strong knowledge on system technicalities and data structures will best serve our clients. She utilizes her technical skills to independently execute tasks with the highest quality for clients, and to also support other internal teams in diagnosing and determining solutions for new and existing problems.
Chiky holds a Bachelor of Science in information technology from a prominent university in the Philippines.
She loves the outdoors. And even though she is afraid of heights, she still loved jumping off a 40-foot cliff and parasailing 120 feet down a free-fall ride into a manmade lake.
Contact Information
800-756-2620
4717 Grand Ave. #500
Kansas City, MO 64112