Brian Habrock
Application Architect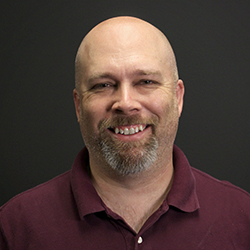 Brian is an applications architect who works with multiple NCM business units to design and build internal and external applications to support the company's operations. Brian believes that his work directly contributes to NCM clients' success by helping employees perform their work easily and efficiently. He also believes that his applications' architecture prepares the company for future growth.
Brian has worked in the IT field for nearly two decades. During that time he has programmed, architected, and even prepared and taught some IT courses. Brian is a full-stack developer, proficient in CSS, HTML, SQL, T-SQL, C, C+, C++, C#, Java, Json, XML, Ruby, Ruby On and Off Rails, PHP, MyPHP, Python, and Logo.
Brian holds a Bachelor of Science in Computer Information Systems from DeVry University. He enjoys hacking Gibsons and world guitar music. Once, on a dare, he ate an entire sundae at a Royals game ... plastic helmet bowl and all! Does Brian know German? Ja, er wissen.
Contact Information
800-756-2620
4717 Grand Ave. #500
Kansas City, MO 64112