Trevor Robinson
Vice President of Client Solutions & Business Development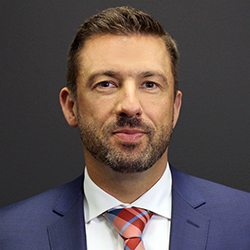 Trevor, of Vancouver, British Columbia, is the vice president of client solutions & business development for NCM. He is charged with leading and expanding the NCM 20 Group and retail consulting programs to better support the company's growing clientele in the U.S. and Canada.
With more than 15 years of experience in the motorsports industry, leading and managing diverse cross-functional teams, most recently in support of a Canadian retail dealer channel, Trevor joins NCM with achievements in performance and operations management as well as product development and engineering.
Trevor grew up around the car business and is a self-proclaimed "gear head." He holds a bachelor's degree in mechanical engineering from the University of British Columbia, and a Master in Business Administration degree from Marquette University in Milwaukee, Wisconsin.